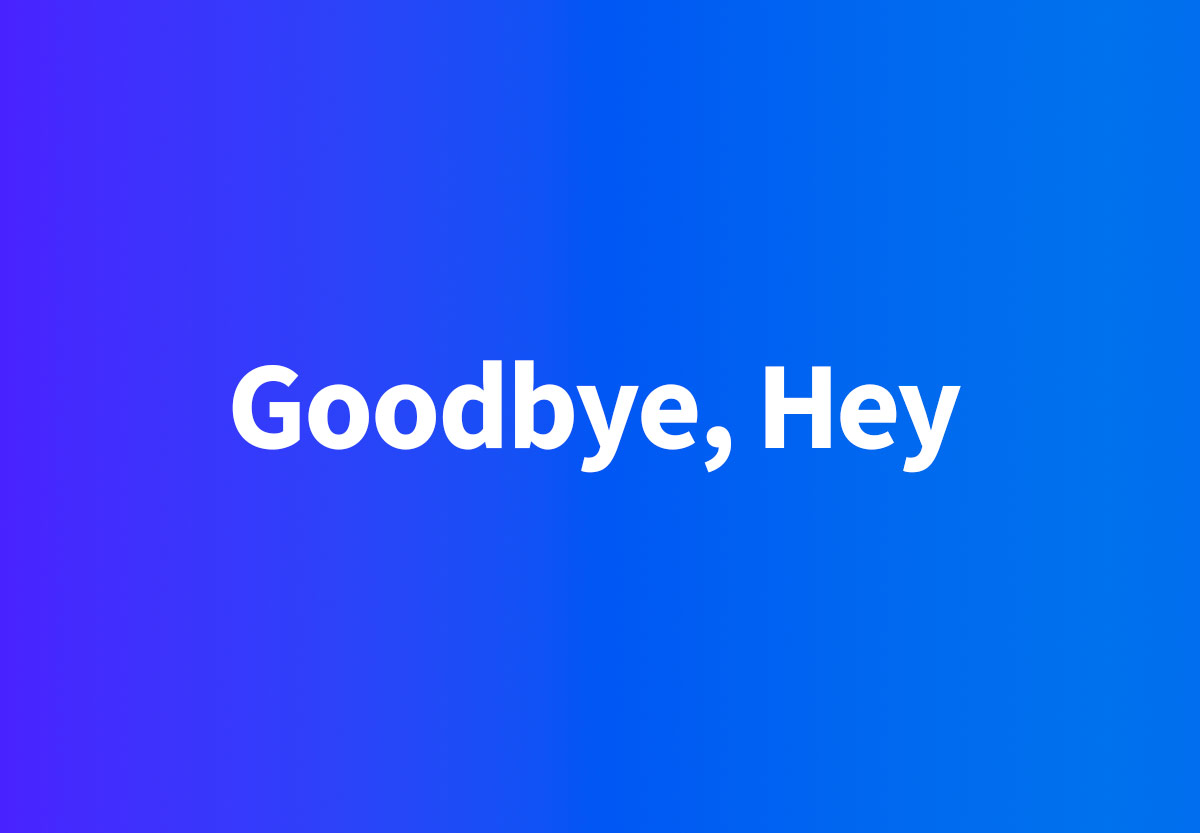 Hey: It's Not Me, It's You
Plenty of people would disagree with me on this, but I think email is really great. When I was first getting online, I had an @lycos.co.uk account. All I needed was a browser window and my password to open up my own little world on the web. Since then I've run the gamut from Hotmail (short-lived), random ISP email addresses, Yahoo mail (I don't remember why), to the now-standard Gmail (since 2004.)
Perhaps the best email service for me, was the calm, quick interface of Google Inbox. It was retired in 2019 and I've had the itch for something better ever since.
June 2020, enter Hey, the extremely-hyped email service from Basecamp. I'd been using Basecamp for project management on and off for almost a decade. I liked it, and it seemed like the company would be reliable enough to trust them with my emails.
The essential premise was to give you control over whose emails would actually make it to your inbox. Every time you receive an email from someone new, you're asked whether their emails should go to the inbox, or be "screened out" so you never have to see their emails again.
When it first launched, the Hey service was only available as an @hey.com email address. Not ideal, but a trade-off I thought would be fine. Plus, I got a pretty succinct address: trimble@hey.com. Short and sweet.
There were some shortcomings, but as someone who has been an early adopter of software many times before, I could look past most of it. There's no "schedule email" option, no auto-responder, and at first there wasn't even a way to setup an email signature. Not great, but not dealbreakers—worth it, I thought, for a quieter, more composed email life.
The honeymoon period came crashing down at the end of April. If you pay attention to the tech world, you already know the story. The founders of Basecamp decided to implement a set of draconian policies that employees can't talk about politics in the workplace, and disbanded committees that were just beginning to challenge issues of diversity, representation, and privacy at the company.
This top-down, paternalistic attitude towards management is problematic on so many levels, particularly because of who ultimately gets to decide what is "politics" and what isn't (hint: everything is political, and only white guys like me could even try to pretend otherwise.)
I can live with a product that's missing a feature or two, but a company that willingly shows such disdain for their own employees, and brushes off serious violations of customer trust is not one I can continue supporting.
You can now reach me on hi@adriantrimble.com where your email will land squarely in my inbox.
Nothing beats owning your email and website address, as this whole saga has reminded me. Some hassle in the short term, but thank goodness for email forwarding! I'm taking Fastmail for a spin, but if it's not right I won't hesitate to switch, only this time my email address won't need to change with it.